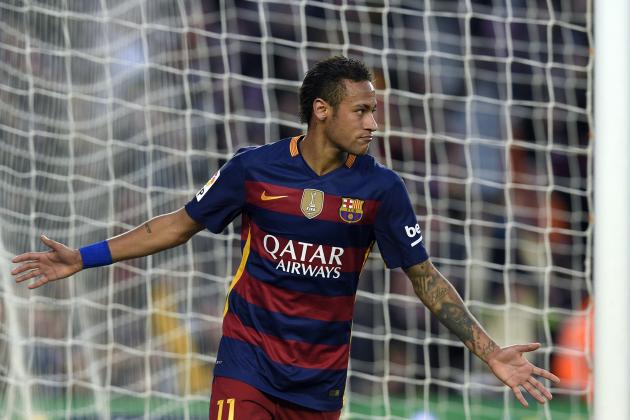 Manchester United are continuing their desperate pursuit of Barcelona star Neymar and are reportedly "crazy" about signing the Brazilian.
The Red Devils have long been linked with the 23-year
-old, and Spanish outlet Mundo Deportivo (via Luke Gardener in the Daily Star) claims they are "doing everything" to sign him.
The report indicates Neymar could cost upwards of £100 million, which is no surprise given how impressive he has been over the past year—he recently came third in the Ballon d'Or voting.
He is in the midst of contract negotiations with Barcelona, and Bleacher Report's Sam Tighe recently suggested Neymar is using United's interest as leverage to get a better deal and has no intention of moving to Old Trafford:
It would be no surprise if that were the case.
While United could afford to pay Barca a huge transfer fee for Neymar, and offer him very attractive personal terms, it just does not seem likely that the Brazil captain would want to leave the Camp Nou.
Along with Luis Suarez and Lionel Messi, Neymar makes up part of the best attacking trio in the world, and Barca are in a position in the 2015-16 campaign to repeat their extraordinary treble victory of last season.
Meanwhile, United are nine points off the top of the Premier League table, out of the Champions League and some way from the European powerhouse they used to be.
Though Neymar could feasibly be attracted by the prospect of returning United to their former glories, it just does not seem likely that he would leave Barcelona, where his prospects are arguably better than they would be at any other club.
Despite the persistent rumours, the Red Devils will surely have to look elsewhere in their attempts to bolster their stale attack.
Meanwhile, United are also reportedly targeting Real Madrid midfielder Toni Kroos and could make a bid of £40 million for the German star, per Spanish outlet Fichajes (via the Telegraph).
The report indicates that Kroos has instructed his agent, Volker Struth, to find him a new club, as he is unhappy at the Bernabeu. United, Chelsea and Paris Saint-Germain have all made their interest known.
It is an unsurprising link given how perfectly Kroos would seemingly fit into manager Louis van Gaal's possession-based framework, per Squawka: